Where's My Water?
Where's My Water? Description:
Now test your skills with "Cranky's Story"!Cranky is the toughest alligator around and he has worked up an appetite from sabotaging Swampy's water supply. He eats anything, especially all the rotting and disgusting junk found in the dumps and sewers. Cranky will not eat vegetables however, and now his food is covered with vegetable-like algae. Use the dirty purple water to clean off Cranky's plate so he can eat!Please note: The ability to write to external storage is not enabled in this version. Swampy will get his ducks in a row and enable this permission in the next update. In the mean time please send any questions to Disney's Customer Care service accessible via the Where's My Water Facebook page.Have you "Tri-Ducked" the game yet and completed all the bonus levels?PLEASE NOTE: This app lets you purchase digital content using actual money. Help Swampy by guiding water to his broken shower. Each level is a challenging physics-based puzzle with amazing life-like mechanics. Cut through dirt to guide fresh water, dirty water, toxic water, steam, and ooze through increasingly challenging scenarios.Swampy the Alligator lives in the sewers under the city. He's a little different from the other alligators – he's curious, friendly, and loves taking a nice long shower after a hard day at work. But there's trouble with the pipes and Swampy needs your help getting water to his shower!
Game Features:
Try "Allie's Story", an in-app purchase featuring over 40 super-challenging puzzles
Challenging, physics-based puzzle gameplay
Uniquely themed chapters and 100's of levels
Creative animation and entertaining soundtrack
Dozens of bonuses and achievements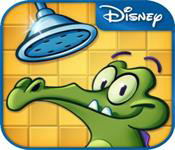 System Requirements:
OS: Windows Vista/7/XP
CPU: 2.0 GHz
RAM: 2 GB
Related Games:
Top Tags
Other Top Games
Free download Where's My Water? Game At P5Games.