Talking Tom Cat 2
Talking Tom Cat 2 Description:
It is much more enjoyable to play this game. Besides, in this updated version, our talking cat Tom can do a great variety of moves and actions. Of course, it can also repeat whatever you said to him. But do not forget, you need to put the earphone into your phone or computer first. Or the system cannot record sounding for you. At the same time, this game supports double repeat. That is to say, in this game, the cat also owns a cell phone in its hand. Thus once you say something to the cat, both the cat and the cell phone will repeat whatever you say, which is really funny.With over 500 million downloads in 140 countries, Tom has come a long way! Thanks to all of our existing fans.
Game Features:
Talk to Tom: Speak and he repeats what you say in his own hilarious voice.
Play with Tom: Stroke him, poke him, challenge him in an all new mini-game.
Customise Tom: New accessories, new clothes, new outfits. How about Cowboy Tom or Pirate Tom?
Video Tom: record videos of what Tom is doing and send it to your friends or upload on Facebook and YouTube
Fun new actions: Involving exploding bags, pillow smashes and lots of farts!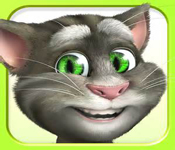 System Requirements:
OS: Android 2.2
CPU:
RAM:
Related Games:
Top Tags
Other Top Games
Free download Talking Tom Cat 2 Game At P5Games.