Talking Cat Puzzle
Talking Cat Puzzle Description:
Talking Cat walpaper puzzle : This is a very easy to use this puzzle, from simple to advanced, Amazing images with talking tom images, while challenging, you can see the world's most beautiful image, and now immediately download to make these cute little guys give you a lot of fun it.You must put all puzzle pieces at the correct position. You can press "Hint" to check the whole photo to see the information of the animal. When you complete it, you can set the photo as your wallpaper and go to next game.We love to hear how much you love Jigsaw Puzzles. Here's a few reviews from around the world from our great users.Drag the pieces to the right place in order to recreate the picture !More games are coming, if you have any feedback, please mail me, thanks & enjoy!This can help your child repeat all over words he or she mastered again and agin. What needs to be pointed out is that the graphic of this game is very fresh although it is cell phone version. And there are other computer versions.
Game Features:
Friendly user interface
New high score
Set as your wallpaper
The pictures are very cut and beautiful
Easy To Use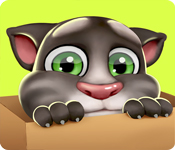 System Requirements:
OS: Windows Vista/7/XP
CPU: 1.0 GHz
RAM: 1 GB
Related Games:
Top Tags
Other Top Games
Free download Talking Cat Puzzle Game At P5Games.