Sonic Dash
Sonic Dash Description:
Sonic Dash is an endless runner; it is very similar to the gameplay of the Temple Run series and Subway Surfers video games.[3][4] The player directs Sonic, Tails, Amy, Knuckles, Shadow, Blaze, Silver, or Rouge through a never-ending 3D version of Sonic Heroes' Seaside Hill/Ocean Palace, moving forward at all times. The player can swipe his/her finger up to Spin Jump, down for a Spin Dash (this can also increase speed slightly), and sideways to Quick Step. The goal is simply to run as far as possible without hitting a wall, falling off the course, or taking a hit with no rings in possession.When rings are collected, the Dash Meter at the bottom right of the screen fills, and when it is full, the player can tap the bottom of the meter to perform the Boost Dash, which is similar to the Sonic Boom or Boost. The player cannot jump during a boost, though Sonic automatically blasts through obstacles. A full dash meter doubles the score multiplier (when you dash, you lose the double multiplier). Upgrades such as "Headstart", "Magnet" and "Dash Boost" can be used and upgraded in-game. Players are able to share and compete for accomplishments such as "fastest time" or "longest distance".
Game Features:
AMAZING ABILITIES
STUNNING GRAPHICS
MULTIPLE CHARACTERS
EPIC BOSS BATTLES
POWERUPS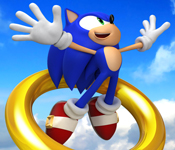 System Requirements:
OS: Windows Vista/7/XP
CPU: 1.0 GHz
RAM: 1 GB
Related Games:
Top Tags
Other Top Games
Free download Sonic Dash Game At P5Games.