PJ Masks: Web App
PJ Masks: Web App Description:
PJ Masks Web App is an exciting application which is based on the series of PJ Masks. It is an exciting web application designed by the Entertainment One. In this app you will get a chance to meet Owlette, Gekko and the Catboy who are proven to be the best childhood heroes of all time. That is why it is specially designed for the little kids to experience the PJ Masks. In the game 6 year olds Amaya, Connor and the Greg are very ordinary children, but one night they see themselves transform into superheroes and get amazed. But after knowing this mystery they prepare themselves ready to embark their adventure on the mysteries which are caused in night by the evil baddies Romeo, Luna Girl and the Night Ninja. So heroes are on their way to defeat the baddies in the night and save the day. Watch different videos on mighty powers of Pj Masks and check their vehicles in order to print them off feel yourself a super warrior too. In the Night Time Ninjalinos game, the pesky Ninjalinos have taken all the sports equipment from the school and the PJ Masks need your help to catch them! Hero Training game is your chance to help train the PJ Masks in their unique superpowers!
Game Features:
Meet the Heroes and find out more about them
Watch Clips from the TV show
Games will be added very soon!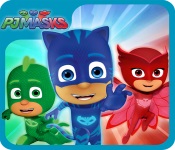 System Requirements:
OS: iPhone/iPad
CPU: 1.0 Ghz
RAM: 1 GB
Related Games:
Top Tags
Other Top Games
Free download PJ Masks: Web App Game At P5Games.