Carbon Auto Theft
Carbon Auto Theft Description:
Play carbon auto theft online for free. use the keypad to break the door codes to steal some smooth rides. but avoid hitting other cars, because the cops are quick to respond. To get into the car you have to unlock it in a given time. Use the keyboard to enter the code shown on the screen. Use the Arrow keys to drive the car and to walk when outside of the car. Press Spacebar to use the hand brake. Don't hit other cars, or you'll get busted by the police! Carbon Auto Theft games Free to play carbon auto theft game on dress up games 8 that was built for girls and boys. carbon auto theft is very fun,play it quickly!A mini game about stealing the luxyry cars. You must be fast to steal the sport cars, watch out for the police try to avoid crushing if don't want to be discovered. Save the time when you will be trying to stole the car to get more points. In each level of this game you've to steal a car and take it to the exit. To enter a car, you've to type the code shown in the screen. Use the arrow keys to drive the car and walk, and the spacebar to use the hand brake.
Game Features:
cool game
best music
nise graphic
interesting game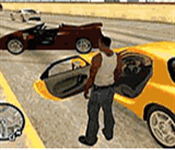 System Requirements:
OS: Windows Vista/7/XP
CPU: 1.0 Ghz
RAM: 512 MB
Related Games:
Top Tags
Other Top Games
Free download Carbon Auto Theft Game At P5Games.